Walmart:12 Days of Giving – Nominate A Nonprofit to Win!
This post brought to you by Walmart. All opinions are 100% mine.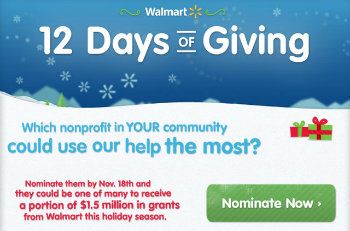 Do you want to help during the holidays?  Perhaps you don't have the money to give? Here is your opportunity to help a local nonprofit in your area. You have just FOUR days left to nominate your local nonprofit for  Walmart's 12 Days of Giving.
Walmart
 will give a total of $1.5 million to local nonprofits  through the Facebook Promotion. In the spirit of the holidays, Walmart wants to give to local  nonprofits across the country that provide the essentials  –    like food, shelter, baby formula,  diapers, coats and other cold-weather clothing – to those in need.
Here is all you have to do.. head over to Facebook and tell Walmart in 200 words or less, why you think your nonprofit is deserving. Not sure who to nominate? Perhaps a school, a church or a food pantry.
I personally decided to nominate Twin Valley Foodbank.  Why?   There are many hungry people in my own community.  We often remember to give during the holidays, but there are people in need year round.   I feel compelled to donate to a the pantry because they provide basic needs that many of us overlook or forget.  They also touch the lives of my fellow community members.
To nominate a nonprofit you will need:
Nonprofit name
Nonprofit contact info
Nonprofit website
Photo (optional
On December 10, Walmart will start the "12 Days of Giving," by announcing funding to the winning nonprofits that were nominated on Facebook.
 Go on and vote for your local nonprofit!
Leave a comment here letting us know who you nominated! Good Luck! Hoping your nonprofit gets a donation!