Giant/Martin's – Upcoming Huggies Instant Savings
Details – Purchase $30.00 of Huggies Diapers, Goodnites, Pullups or Huggies Wipes and get $10.00 off instantly.   The last time we saw the Huggies Instant Savings Deal at Giant, all diapers and pants were priced at $9.99 each.
Note – Giant Instant Savings Deal may not be consistent, sometimes they work before coupons and sometimes after coupons. If you are trying the Huggies Deal, my suggestion is to be sure your total purchase is over $30.00.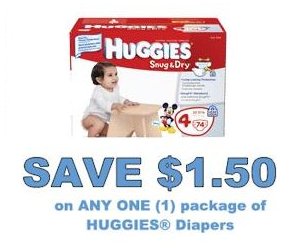 Available Huggies Coupons
$1/2 Huggies Baby Wipes, exp. 2/9/13 (SS 01/13/13 R)
$2/1 Huggies Diapers, exp. 2/9/13 (SS 01/13/13 R)
$0.50/1 Huggies Baby Wipes, exp. 2/9/13 (SS 01/13/13 R)
$2/1 Huggies Little Movers or Little Snuggies Diapers, exp. 2/9/13 (SS 01/13/13 R)
$1/1 Huggies Diapers, exp. 2/9/13 (SS 01/13/13 R)
$1.50/1 Huggies Diapers, exp. 2/9/13 (SS 01/13/13 R)
This deal is valid 2/3/13 to 2/9/13