Get Your Men Ready For Spring – Buy AXE Products Save $2 at Kroger
Sponsored post by Mirum. All opinions are my own. #InspireHisStyle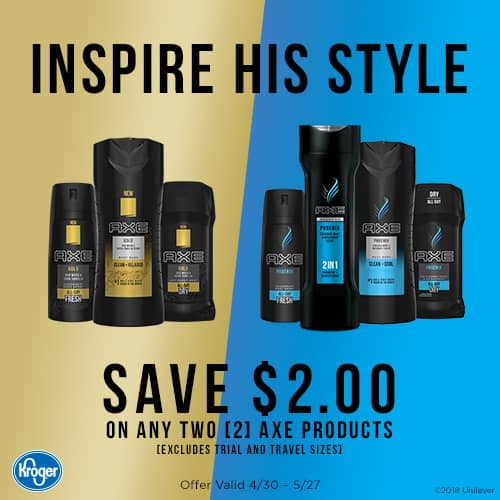 I don't have sons, but most of my friends have at least one son. They are all in high school now so they are now concerned over their looks and style much more than when they were younger.  I picked up AXE for a friends son as a Christmas gift. I know several men who love the products and thought it was a good choice as a gift. Later in the day, after opening his gift, my friends son said to me, "Thank you for the AXE gift set. I'm taking it to school with me.  It will help me smell better after gym class"  First I chuckled and then I was happy that I gave him something he really wanted and could use.  Are your sons at the age where they worry about their appearance and style just as much as the girls?
Whether it is your son or your husband/boyfriend that is the AXE user in your life, you can #InspireHisStyle and save a few bucks too. Today, 4/30 through 5/27, Kroger and Kroger affiliates shoppers can save $2.00 on any 2 AXE products.  Head over to Kroger because it is time to stock up on their favorite products in the Phoenix scent available in 2-in-1 Shampoo + Conditioner, Body Wash, Antiperspirant Deodorant, and Body Spray; or the New AXE Gold available in Body Wash, Antiperspirant, and Body Spray.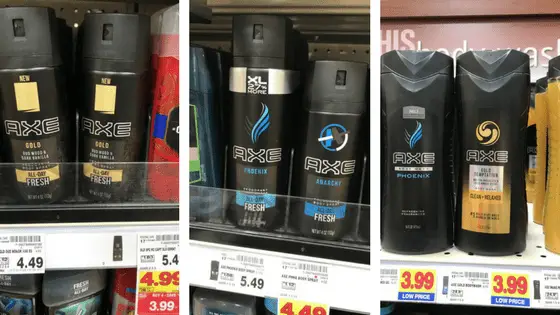 Download your digital AXE coupon here.
What are your men's favorite AXE products?  Please share in the comments.