Kohl's: Carter's Baby Bodysuits ONLY $1.23 each with Kohl's Card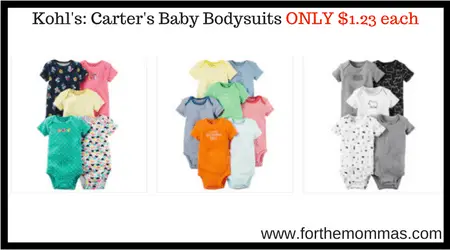 Kohl's: Carter's Baby Bodysuits ONLY $1.23 each with Kohl's Card
Head over to Kohl's where you will find Carter's Bodysuits on sale for as low as $13.00. Plus, if you own a Kohl's card you can stack a few coupon codes to get them for ONLY $1.23 each!
When using your Kohl's Card:
BUY (1) Carter's Bodysuits, 3-5 count 13.00
Buy (1) Carter's Bodysuits, 6-7 count $18.00 (reg $26-$36)
Use the code BABYSALE10 to save $10 off a $30 Baby purchase
Enter Coupon Code SNOWY30 at Checkout (Or ICICLE if not using Kohl's Card)
Get FREE Shipping with the code JAN4FREE or with $75 purchase or with store pickup
Price OOP when using Kohl's card: $14.70 for 12 body suits or only $1.23 each
Choose Store pick up to get $5.00 in Kohl's Cash
Stay tuned for Hot Kohls deals!
Wanna stay up to date on the best online deals?
Be sure to join the ForTheMommas Facebook page for all of the best online deals.