FREE Amazon Credit with 12 Sample Boxes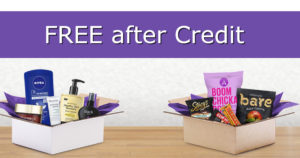 FREE Amazon Credit with 12 Sample Boxes
Amazon prime members don't miss out on this awesome deal!
Amazon has 12 Sample Boxes Available. Plus, buy one and get a FREE Amazon Credit for the same amount you paid for the box! It's like getting them for FREE. The Amazon credit can then be used on beauty items and will be added to your account once your box ships. The items in each box is worth more than your paying for the box so it ends up being an AWESOME deal! This is a GREAT way for trying out products before you pay full price to buy them.
Snack Sample Box
Dog Wet Food and Treats Sample Box
Daily Beauty Sample Box
Women's Skin & Haircare Sample Box
Women's Luxury Sun Care Sample Box
Women's Luxury Anti-aging Beauty Sample Box
Women's Luxury Skincare Sample Box
Women's Luxury Hair, Skin & Body Sample Box
Gatorade Sport Fuel Sample Box
Luxury Grooming Sample Box
Nutrition & Wellness
Optimum Nutrition Sample Box
If you aren't an Amazon Prime member, now would be an awesome time to join! You can get a 30-day FREE trial to Amazon Prime which includes 2-day FREE shipping on hundreds of thousands of items, early access to Amazon Lightning Deals, access to Prime Only deals, stream tens of thousands of movies and TV shows plus lots more! Sign up for a 30 Day FREE trial offer now!
Prices in this post were current at the time of writing. Prices can, and may, change without notice. Please verify the price before ordering.