3 Months FREE of Kindle Unlimited ($29.97 Value!)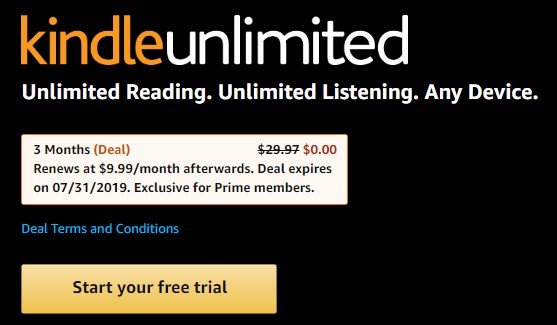 3 Months FREE of Kindle Unlimited ($29.97 Value!)
Kindle Unlimited is a service that allows you to read as much as you want, with over 1 million titles and thousands of audiobooks. Right now, you can score 3 months of Kindle Unlimited for FREE ($29.97 Value).
This offer is for New subscribers and You must be a Prime Member (if your not get a free trial)- if you have subscribed in the past you may want to try though, some users are reporting they are able to get this freebie.
This offer is valid thru July 31, 2019.
Despite the name, you do NOT need a Kindle to enjoy this offer. You can read or listen to your favorite books on any device, phone or computer. Best part is your not limited in the amount of digital and audio books and magazines. This trial comes in handy when sitting in waiting rooms, sitting int he school car lanes, etc.
If you wish to continue after the 3 free months you'll be charged $9.99 per month. However, you can cancel anytime, making this truly risk-free.
If you aren't an Amazon Prime member, now would be an awesome time to join! You can get a 30-day FREE trial to Amazon Prime which includes 2-day FREE shipping on hundreds of thousands of items, early access to Amazon Lightning Deals, access to Prime Only deals, stream tens of thousands of movies and TV shows plus lots more! Sign up for a 30 Day FREE trial offer now!
Prices in this post were current at the time of writing. Prices can, and may, change without notice. Please verify the price before ordering.