Halloween Freebies and Deals 2018: Baskin-Robbins, Dunkin' Donuts & More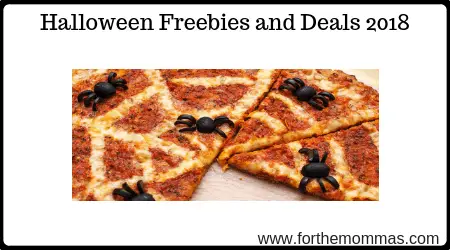 Halloween Freebies and Deals 2018: Baskin-Robbins, Dunkin' Donuts & More
Restaurants and stores across the country are passing out terrifyingly awesome freebies and frighteningly delicious Halloween-themed drinks and treats in honor of the spookiest of holidays. Here are a few deals you can score at Baskin-Robbins, Dunkin' Donuts, A&W & More. Check them out before you hit the town.
99 Restaurant & Pub: Kids eat free on Halloween (as well as every Sunday in October). This is part of the Boys & Girls Club Month promo the restaurant chain is running.
Applebee's: The specialty Zombie Cocktail is $1 every day in October. It features rum and a mix of pineapple, passion fruit, cherry and lime flavors. The cocktail is served in a mug and garnished with a gummy "brain."
Or, order the Boo Lagoon (Bacardi Superior, Dekuyper Blue Curacao, orange and lime juices, cherries and pomegranate sugar rim) and Dracula's Juice (Bacardi Superior, lemonade, cranberry juice and and fresh blackberries), served in a Mucho glass.
A&W: The Apple Crumble Sundae features the chain's signature vanilla soft serve topped with caramel sauce, apple crumble, whipped cream and a classic cherry. Available at participating locations through Nov. 25.
Baskin-Robbins: Get $1.50 scoops Oct. 31, which just happens to be Halloween! Baskin Robbins continues its Celebrate 31 promotion with $1.50 scoops on October 31.
As October's Flavor of the Month, in celebration of Halloween, Baskin-Robbins welcomes back Trick Oreo Treat ice cream during the month of October 2018. It features a vanilla ice cream base packed with crumbled pieces of orange crème-filled Oreo cookies, Baby Ruth and Butterfinger candy pieces.
Plus, the Fang-Tastic Monster Cake is Back for Halloween. The frighteningly friendly and fuzzy cake is decorated with orange fur, three eyes and a happy smile. It can be customized with the ice cream flavor of your choice.
Bass Pro Shops: Go to your nearest participating Bass Pro Shops and enjoy the free Great Pumpkin Celebration (Oct. 20 and 21,and Oct. 26 through 31). The event features free crafts, free pictures with the Peanuts gang and more. See details.
Beef 'O' Brady's: Kids in costume eat free on Oct. 31. One free kids' meal per adult entree purchase. The chain is advertising this offer on its Facebook page.
Bertucci's: Host your Halloween party with Bertucci's Halloween Party Packages starting at $39.99. Treat your ghouls and goblins to salads, pastas and pizzas. Available Oct. 26-31. See the deals. Plus, kids eat free on Wednesdays, and Halloween happens to fall on a Wednesday. Get one free kids' meal per purchase of an adult entree of $10.99 or more.
Bojangles': Dress up in a Bojangles' themed costume for a chance at winning $200 in Bojangels' gift cards and a Seasoned Fried Turkey. You must upload a picture of you in costume by 11:59 EST on Oct. 31 to the chain's website.
Bubba Gump Shrimp Co.: Kids eat free on Halloween with purchase of an adult entrée.
Burger King: Ask your nearest location if it's serving the Frozen Fanta Scary Black Cherry. It's Burger King's spin on a slushie made with Fanta Black Cherry. You can get it for $1 at select locations through October. Also available as a Frosted Frozen for $2.
Plus, for a limited time, Burger King will offer the new Nightmare King Sandwich ($6.39) at participating locations starting Oct. 22. It features a beef patty, white meat crispy chicken, bacon, cheese, mayo and onions — and is served on a green bun.
Cheryl's: Through Oct. 31, get 50% off the Halloween Trick-or-Treat pail, which is filled with cookies decorated in spooky designs.
Chili's: The $5 Great Pumpkin 'Rita combines Monin Pumpkin Spice Syrup, Lunazul Silver Tequila, Triple Sec and a splash of Captain Morgan. Get it through the month of October.
Chuck E. Cheese's: Chucktober is back this month. Guest who show up in costume during the month of October get 50 free tickets.
Denny's: Enjoy these pumpkin-flavored treats for a limited time: Pumpkin Pie Milkshake, Pumpkin Spice Pancake Puppies and Pumpkin Pie.
Dunkin' Donuts: – Try the new Halloween Oreo Donut and enjoy the return of the the Spider Donut. These specialty donuts are available through the month of October.
Harry & David: Oct. 9 through 16, use this coupon code to get $5 flat-rate shipping on Halloween gifts.
IHOP: Scary Face Pancakes are back for October. All kids age 12 and under get a free Scary Face Pancake between 7 a.m. and 10 p.m. on Wednesday, October 31 at participating locations. One pancake per child. Dine-in customers only.
Jack in the Box: The Pumpkin Spice Shake (available at participating locations through fall) features pumpkin spice syrup made with real pumpkin, whipped cream and gingersnap cookie crumbles.
Joe's Crab Shack: Kids eat free on Halloween. Costumes not required, but welcome. Each free kid's meal requires the purchase of an adult entree. Present this coupon.
Krispy Kreme: The annual Halloween collection features the new Trick-or-Treat Doughnut and all-new Monster Batter Doughnut. The new doughnuts join the chain's returning Halloween-themed favorites, including the Jack-O-Lantern Doughnut, and the Chocolate Iced Doughnut with Halloween Sprinkles.
Plus, get a free doughnut of choice when you wear a Halloween Costume Oct. 31 at participating U.S. locations only.
Kohl's: Kohl's has plenty of Halloween home decor items. Now through Oct. 21, use promo code PAYLESS to get 20% off orders over $100, plus free shipping. Plus, select Halloween decorations are up to 60% off.
Macaroni Grill: The fall menu includes Pumpkin Cheesecake. Enjoy creamy pumpkin cheesecake topped with caramel sauce, fresh whipped cream and house-made caramel croccante pieces. At participating locations only.
McDonald's: McDonald's is running a Halloween-themed daily sweepstakes game called Trick. Treat. Win! Find game pieces on select McDonald's packaging and use the code on the back to determine if you're a winner. Prizes include free food, VIP experiences and more.
Papa John's: The jack-o'-lantern pizza is back. Shaped like a pumpkin and decorated to look like a smiling jack-o'-lantern, the pizza costs $11 and is available until Oct. 31. To order, use the code JACKOLANTERN on the Papa John's website.
Papa John's is also running Halloween Party meal deals, including five large one-topping pizzas with the option of three bread sides or three desserts for $55. See details.
Red Robin: Participating locations offer $1.99 kids meals on Wednesdays. Halloween falls on a Wednesday this year, so drop by with the kids before or after trick-or-treating.
Ruby's Diner: Kids in costume eat free in October (4 p.m. to close), with purchase of adult entree at participating locations. One free kid's meal per adult entrée.
Spirit Halloween: Use promo code 18CAT to get $10 off orders over $65; $20 off orders over $100; $30 off orders over $150; and $50 off orders over $200.
Target: Select costumes are buy-one-get-one-50% off through Oct. 20.
Walmart: Avoid the in-store chaos in the costume aisle by shopping online and picking up your costume in store for free. Plus, get Halloween yard inflatables for under $50.