Sugary Baked Sweet Potatoes Recipe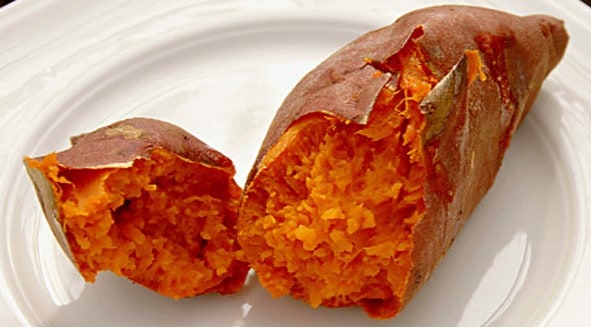 With just a few simple ingredients, you can make this healthy staple seem like a treat with half the calories.
[print_recipe]
Sugary Baked Sweet Potatoes Recipe
Ingredients
2 whole potato(es), sweet
1/2 cup(s) sour cream, nonfat
cinnamon, ground
1 teaspoon sugar
Directions
Serves 2
Poke holes all around the potatoes with a fork. Microwave on high for about 8 minutes, or until tender.
While the potatoes cook, combine the sour cream, cinnamon and sugar in a small bowl. Stir until sugar has dissolved.
Slice the potatoes in half, top each with 1/4 cup sour cream mixture. Enjoy!
[/print_recipe]
Recipe courtesy: http://diet.mayoclinic.org/