What's On Sale In April?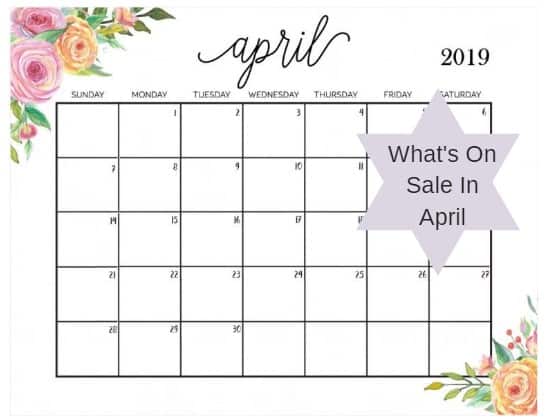 What's On Sale In April?
April showers is bringing us some great deals this month. Be sure to see what's on sale in April 2019. Mother's Day, graduations and Father's Day come in May and June, which means you can see some amazing deals on accessories for electronics and so much more!
Here are the deals you can find this April:
Last minute deals on Tax software, beauty products, home decor, toys.
Candies: You can see some great discounts on candies, from chocolate bunnies to jelly beans. April 22nd is National Jelly Bean Day.
It's the end of the model year, so you can expect some discounts on TVs, laptops and tablets
Kids' dress clothing will be marked down with discounts as much as 50%.
You will also find some deals on outdoor furniture, clay pots and some blooming plants.
Produce:
Artichokes
Asparagus
Avocados
Beans
Beets
Berries
Broccoli
Cabbages
Carrots
Chicory
Chives
Grapefruit
Horseradish
Leeks
Lettuce
Limes
Morel Mushrooms
Oranges
Peas
Rhubarb
Rocket Arugula
Shallots
Strawberries
Sweet Onions
Watercress
National Food Holidays in April:
National Grilled Cheese Month
National Soft Pretzels Month
National Garlic Month
National BLT Sandwich Month