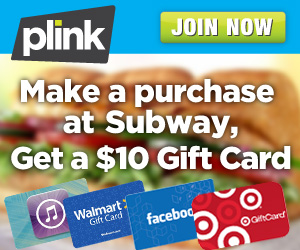 If you haven't joined Plink, you can sign up and get a $10.00 Gift Card when you make any purchase at Subway . New members only.
Sign up for Plink today, make any purchase at Subway by Sunday, 6/23 11:59 EST, and we'll give you 1,000 Plink Points – enough to redeem for a $10 Gift Card of your choice at places like Amazon.com, Target, Walmart, Kohls, Starbucks and more! As Subway is a private offer for new members only, the offer will not appear in your Plink Wallet.
If you want more information on Plink, you can check out a more detailed post here.