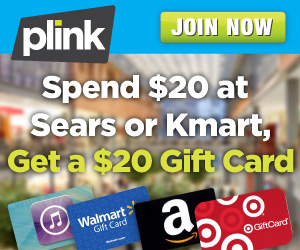 Here is a new offer from Plink. If you haven't signed up for Plink, you can earn a $20.00 Gift Card by signing up now and making a $20.00 purchase at Kmart by 5/19/13.
Here is how you do it:
Make a purchase at Kmart or Sears by 5/19/13 for $20.00
You will earn 2,000 points, or enough for a free $20.00 gift card.
Note: Plink Member must link a credit or debit card and make a $20 Sears or Kmart purchase by Sunday, 5/19 11:59 EST to qualify for the bonus 2,000 Plink Points enough to redeem for a $20 Gift Card of your choice at places like Amazon.com, Target, Walmart, Kohls or Starbucks.